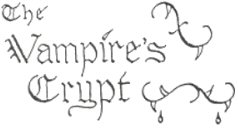 NOTE: The final issue of THE VAMPIRE'S CRYPT was Number 25, Spring 2002. The entire print run remains available from the distributor. See links below for ordering information, contents of all issues, and summaries of each issue's book review column.

THE VAMPIRE'S CRYPT is distributed by Lionheart Distribution. Order through their web page.

All back issues remain available. Except for No. 1, most issues are in the 90-100 page range.

I also produce an annual vampire fiction bibliography update. New updates appear every January. Contact MLCVamp@aol.com for information. (Note: VAMPIRE'S CRYPT orders go only to the distributor, not to me.)

Click here for The Tables of Contents for The Vampires Crypt.

Summaries of Cathy Krusberg's book reviews in every issue.