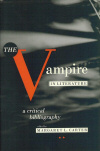 The Vampire in Literature: A Critical Bibliography (Studies in Speculative Fiction, No 21)
From Book News, Inc.: Comprehensive bibliography (1000+ items) is preceded by three critical essays, two by the editor and one by Devendra P. Varma, a scholar of Dracula and vampirism. A timely release considering the upsurge of interest in this field, and well done. Annotation copyright Book News, Inc. Portland, Or.
Note from the Publisher: This product is not a traditionally bound book. Many ProQuest UMI products are black-and-white reproductions of original publications produced through the Books On Demand ® program. Alternately, this product may be a photocopy of a dissertation or it may be a collection reproduced on microfiche or microfilm if it is intended for library purchase.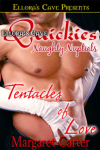 Lauren wonders why her fiancé Blake won't undress completely in front of her or consummate their sex play. Does his reticence have something to do with his family's eccentric customs and pagan rituals?
Before the wedding, when Blake takes Lauren to visit the family beach house where he plans for the two of them to spend their honeymoon, her questions are answered. First, he introduces her to his twin brother, who lives in a boarded-up attic room… for a very good reason. Then Blake finally takes his shorts off and their lovemaking expands to a whole new dimension.