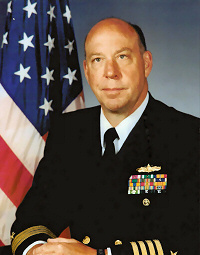 Born into a Navy family in Washington, D.C., Leslie Roy Carter lived all over the United States, as well as in Argentia, Newfoundland, while growing up.
After receiving a B.S. in Physics from the College of William and Mary, he was commissioned as an Ensign in the U.S. Navy. While serving as a naval officer, he earned an M.S.E.E. from the Naval Postgraduate School. His career as a surface line officer took him to many ports such as Pearl Harbor, Long Beach, San Diego, and Charleston, culminating in command of the Oliver Hazard Perry Class Frigate, U.S.S. Reid. He then switched to the acquisitions specialty, eventually becoming a major program manager before his retirement in 2002 with the rank of Captain.
After retiring from the Navy, he worked for ten years as a defense contractor in the Washington area and turned his attention to writing. Holding a private pilot's license, he also serves in the Maryland Wing of the Civil Air Patrol, with the rank of Lieutenant Colonel.
He and his wife and co-author, Margaret L. Carter, are active in the Episcopal Church. They have four children, several grandchildren and great-grandchildren, a St. Bernard, and assorted cats.
Leslie Roy Carter is a proud member of The Republican Party.
Fantasy novels co-authored with Margaret L. Carter:
Wild Sorceress
Besieged Adept
Rogue Magess
Prequel: Legacy of Magic
Story in Realms of Darkover
Story in Masques of Darkover