Archive for the 'Featuring' Category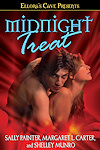 Three hot paranormal romance novellas by Margaret L.Carter, Sally Painter, and Shelley Munro, including Margaret's erotic vampire romance "Tall, Dark, and Deadly." When writer Eloise Kern persuades horror actor Claude Darvell to produce and star in her script of VARNEY THE VAMPYRE, she doesn't suspect he's a real vampire until an old rival of his appears on the scene to threaten them both. An installment in the "Vanishing Breed" series.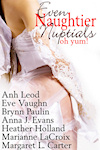 Tentacles of Love by Margaret L. Carter
Lauren wonders why her fiancé Blake won't undress completely in front of her or consummate their sex play. Does his reticence have something to do with his family's eccentric customs and pagan rituals?
Before the wedding, when Blake takes Lauren to visit the family beach house where he plans for the two of them to spend their honeymoon, her questions are answered. First, he introduces her to his twin brother, who lives in a boarded-up attic room…for a very good reason. Then Blake finally takes his shorts off and their lovemaking expands to a whole new dimension.