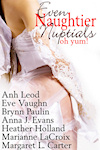 Tentacles of Love by Margaret L. Carter
Lauren wonders why her fiancé Blake won't undress completely in front of her or consummate their sex play. Does his reticence have something to do with his family's eccentric customs and pagan rituals?
Before the wedding, when Blake takes Lauren to visit the family beach house where he plans for the two of them to spend their honeymoon, her questions are answered. First, he introduces her to his twin brother, who lives in a boarded-up attic room…for a very good reason. Then Blake finally takes his shorts off and their lovemaking expands to a whole new dimension.