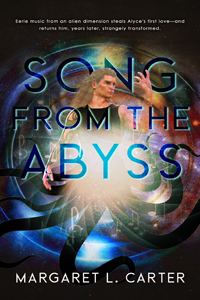 Alyce always spent her summer break at her aunt's beach house. It was there that she met Dean — her first love. She thought Dean loved her as much as she loved him. Until the summer when they were eighteen and he vanished from her life. Just gone. No explanation, not even an email.
Alyce tucked away her memories of Dean, though she never forgot him. Three years later, her aunt did something that destroyed their relationship as well. She drugged and used Alyce in an arcane ritual that opened a portal into another dimension.
Now Alyce has inherited the house where she endured that terrifying night. She finds a recording of the eerie music from the dark rite. When she plays it, the portal opens again, and Dean returns. Their passion ignites, more intense than anything Alyce has ever known, but he's no longer quite human. Dean has spent years in another dimension. Sinuous tentacles are only the most visible mark of his alien transformation. Who is he now? What is he?