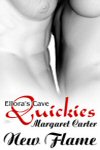 When Judy inherits an antique lamp from an eccentric aunt, she sees it only as a possible source of money to prop up her floundering bookstore.
But when she lights the magical lamp a magnificent creature appears.Rising before her in a column of flame-created of earth and fire to feed on a woman's desire-he will turn her world upside down.
This creature…borne by fire.
Two magical erotic romances in one volume:
"Dragon's Tribute": When Rowena is chosen to be her village's sacrifice to the local dragon, she discovers to her amazement that this dragon seeks a mate, not a meal. But as she struggles with adjusting to her new life and missing her human family, the adventure and danger are just beginning.
"Virgin Blood": Why was Rapunzel locked in that tower, and what was her prince really like? A fairy tale of blood, magic, and forbidden love.
From the pen of Margaret L. Carter: "When I first read Dracula at the age of twelve, my spontaneous reaction was to wonder how the vampire saw the events in which he was portrayed as the villain.
"The tales in this collection span the past ten years of my writing career. Most can be described as romances, and all involve love and passion in some form. Here you will encounter vampires, elves, ghosts, and at least one human-monster hybrid.
"In the words of Count Dracula, 'Welcome… Enter freely and of your own will!'"