Science fiction conventions attract some strange people, but Sherri Hudson never expected to spend a con weekend helping a sexy man in a cape steal photos of a winged alien. When the photographer is murdered, and Nigel Jamison reveals to Sherri that the "alien" is actually his sister, the situation gets intriguingly complicated. Unwillingly swept up in Nigel's quest to rescue his sister, Sherri can't help being fascinated with him. By the time she finds out he's a vampire, the fascination has become mutual…
And too strong to resist.
Denise A. Agnew, Eppie Award-winning author of LOVE FROM THE ASHES, says: "SEALED IN BLOOD is for true vampire fans and romance fans alike. Unique and complex characterizations, action, and mystery will keep readers guessing and intrigued until the very end."
Linda Suzane, reviewing for Suite 101, says: "The snappy repartee between the hero and heroine is delightful….I thoroughly enjoyed SEALED IN BLOOD and highly recommend it."
Residual Fumes featured in E-Macabre
Cleaning out her hospitalized sister's garage, where an abusive marriage led to an attempted murder-suicide, Marcie confronts two kinds of ghosts.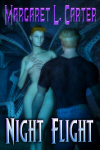 When the vampiress Gillian goes into heat for the first time, her mentor chooses a breeding mate for her that she finds repulsive. She flees into the night to Paul, a man who is both her friend and co-worker. But when the need to mate becomes painful, can Gillian be satisfied by the lust of a mere human?
Reviewer Linda Suzane says: "Margaret L. Carter writes about some of the most interesting vampires in the vampire universe. . . . NIGHT FLIGHT was an extremely satisfying story."