Archive for the 'Books and Short Stories' Category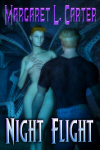 When the vampiress Gillian goes into heat for the first time, her mentor chooses a breeding mate for her that she finds repulsive. She flees into the night to Paul, a man who is both her friend and co-worker. But when the need to mate becomes painful, can Gillian be satisfied by the lust of a mere human?
Reviewer Linda Suzane says: "Margaret L. Carter writes about some of the most interesting vampires in the vampire universe. . . . NIGHT FLIGHT was an extremely satisfying story."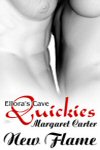 When Judy inherits an antique lamp from an eccentric aunt, she sees it only as a possible source of money to prop up her floundering bookstore.
But when she lights the magical lamp a magnificent creature appears.Rising before her in a column of flame-created of earth and fire to feed on a woman's desire-he will turn her world upside down.
This creature…borne by fire.
Two magical erotic romances in one volume:
"Dragon's Tribute": When Rowena is chosen to be her village's sacrifice to the local dragon, she discovers to her amazement that this dragon seeks a mate, not a meal. But as she struggles with adjusting to her new life and missing her human family, the adventure and danger are just beginning.
"Virgin Blood": Why was Rapunzel locked in that tower, and what was her prince really like? A fairy tale of blood, magic, and forbidden love.