Archive for the 'Books and Short Stories' Category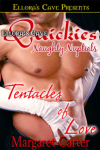 Lauren wonders why her fiancé Blake won't undress completely in front of her or consummate their sex play. Does his reticence have something to do with his family's eccentric customs and pagan rituals?
Before the wedding, when Blake takes Lauren to visit the family beach house where he plans for the two of them to spend their honeymoon, her questions are answered. First, he introduces her to his twin brother, who lives in a boarded-up attic room… for a very good reason. Then Blake finally takes his shorts off and their lovemaking expands to a whole new dimension.
Science fiction conventions attract some strange people, but Sherri Hudson never expected to spend a con weekend helping a sexy man in a cape steal photos of a winged alien. When the photographer is murdered, and Nigel Jamison reveals to Sherri that the "alien" is actually his sister, the situation gets intriguingly complicated. Unwillingly swept up in Nigel's quest to rescue his sister, Sherri can't help being fascinated with him. By the time she finds out he's a vampire, the fascination has become mutual…
And too strong to resist.
Denise A. Agnew, Eppie Award-winning author of LOVE FROM THE ASHES, says: "SEALED IN BLOOD is for true vampire fans and romance fans alike. Unique and complex characterizations, action, and mystery will keep readers guessing and intrigued until the very end."
Linda Suzane, reviewing for Suite 101, says: "The snappy repartee between the hero and heroine is delightful….I thoroughly enjoyed SEALED IN BLOOD and highly recommend it."