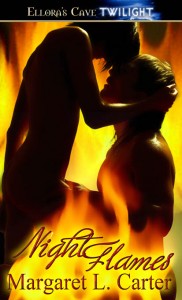 Night Flight
When the vampiress Gillian goes into heat for the first time, her mentor chooses a breeding mate for her that she finds repulsive. She flees into the night to Paul, a man who is both her friend and co-worker. But when the need to mate becomes painful, can Gillian be satisfied by the lust of a mere human?
New Flame
When Judy inherits an antique lamp from an eccentric aunt, she sees it only as a possible source of money to prop up her floundering bookstore.
But when she lights the magical lamp a magnificent creature appears.Rising before her in a column of flame—created of earth and fire to feed on a woman's desire—he will turn her world upside down.
This creature…borne by fire.
Sweeter Then Wine
A phantom lover might be just what Marie needs. After a year and a half of widowhood, she's ready to move on with her life. She's also looking for ways to increase the profits of her struggling bed-and-breakfast. Gordon MacBain, the lusty ghost of a Revolutionary War smuggler turned gentleman landowner, atones for his youthful transgressions by lavishing erotic pleasure on women who sleep in the room he haunts. But his night of passion with Marie surpasses all others, leaving them both yearning for more…