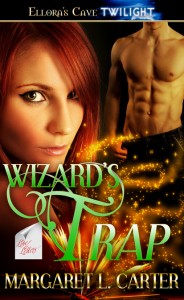 Wizard's Trap
Laurel always had a thing for sexy, good-looking Gil, and he wanted her, but the time was never right. Now he's missing and presumed dead. Laurel tries to contact his spirit and succeeds—but she discovers he isn't a ghost. Instead, he's a wizard who's cursed and imprisoned on the astral plane.
Communicating with Laurel through his diary, Gil persuades her to recite a spell to restore him to the material plane. Lust ignites between them and they satisfy the desire they'd once denied. But their time together is limited, for the spell's effects won't last. A magical talisman entraps Gil, and he can't destroy it himself.
Laurel fears Gil has seduced her only to get free of the curse. She'll face the risks of magic to save him—and hope their passion can survive the ordeal and grow into love.