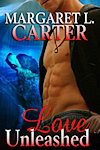 When Vicki takes in a stray Saint Bernard, she has no way of knowing he is really a man under a dark spell.
Stefan Rigatos was changed into a dog by a vengeful witch bent on teaching him a lesson about casually seducing women. Despite the curse, he finds affection he's never experienced before — as Vicki's temporary pet. But, for a few hours each night, Stefan reverts to human form and sets out to seduce Vicki. During their nights of passion and days of discovery, he develops deeper feelings for her.
Meanwhile, the witch who cursed him wants him back under her control, threatening to destroy Stefan and his new-found capacity for love.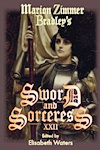 Liriel and Bertrice are sent to find the Duke's missing son. They soon discover that not only is he missing, but an entire village is as well.
"I liked the concept of this story, as well as the juxtaposition between the paradise-like existence in the town and its too-perfect, menacing undercurrents."–Elizabeth A. Allen, The Fix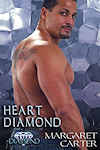 Roseanne thought she'd lost her fiancé, Tim, forever when he died in a car crash. Wanting to leave her something of himself, he arranged to have a diamond ring made from his ashes. Now Tim haunts the ring.
Tim's spirit gains power from the passion he finds while wrapped in Roseanne's arms. The more they make love, the stronger he becomes. But it does not last and Roseanne fears losing their love once more.
Tim has returned from beyond death to claim his beloved — even if he has to fight his own brother for her.