Archive for the 'Literature' Category
Different Blood: The Vampire as Alien
Different blood flows in their veins-but our blood quenches their thirst.
From Bram Stoker´s 1897 creation of Count Dracula, portrayed as a foreign invader bent on the conquest of England, the literary vampire has symbolized the Other, whether his or her otherness arises from racial, ethnic, sexual, or species difference. Even before the bloodsucking Martians of H. G. Wells´ War of the Worlds, however, popular fiction contained a few vampires who were members of alien species rather than supernatural undead. Guy de Maupassant´s Horla is only one of the best-known.
An extensive bibliography guides the reader to numerous novels and short stories on the "vampire as alien" theme, many of them still in print.
S. T. Joshi says in WEIRD TALES: "Veteran novelist, critic, and anthologist Margaret L. Carter has issued an admirable critical study. . . a penetrating survey of vampire fiction from the late nineteenth century almost to the present day."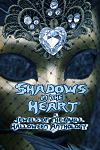 "The Unvanished Hitchhiker" appears in the collection SHADOWS OF THE HEART
In a twist on the Vanishing Hitchhiker urban legend, in which an unsuspecting driver picks up a hitchhiker and discovers the passenger is a ghost, a bereaved mother waits every Halloween night in anticipation of the knock on the door, bringing her lost daughter home yet again.