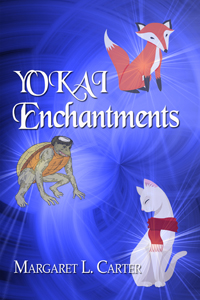 Three Connected Light Paranormal Romance Novellas, in E-Book and Print:
Yokai Magic:
When Val unearths a Japanese scroll and a cat figurine inherited from her grandfather, magic invades her world. The statuette, actually a cat spirit named Yuki–a yokai–enchanted into that form for her own protection, comes to life. With her old high-school boyfriend, she searches for a way to vanquish the threat from the spirit realm, while facing the attraction they thought they'd long since put behind them.
Kitsune Enchantment:
On the verge of losing her job, Shannon leaps at the chance to sell her graphic novel series to a major publisher. She'd love to have a closer relationship with her artist collaborator, Ryo, but how can she count on a man who keeps disappearing with the flimsiest of excuses? Ryo feels the same attraction to Shannon, but he isn't sure how she'd react to the truth. He's a kitsune–a fox shapeshifter–prone to transforming at awkward moments. When a wannabe wizard follows him to a science-fiction convention, Ryo's secret, liberty, and budding romance with Shannon are all threatened.
Kappa Companion:
Two years after her husband's sudden death, Heidi hopes to make a fresh start with a new love and a new home. But she hasn't planned on sharing her century-old house with her son's not-so-imaginary friends–a ghost child and a Japanese water monster. At least the creatures aren't dangerous–or are they?
Order from Amazon