Archive for the 'Literature' Category
From the pen of Margaret L. Carter: "When I first read Dracula at the age of twelve, my spontaneous reaction was to wonder how the vampire saw the events in which he was portrayed as the villain.
"The tales in this collection span the past ten years of my writing career. Most can be described as romances, and all involve love and passion in some form. Here you will encounter vampires, elves, ghosts, and at least one human-monster hybrid.
"In the words of Count Dracula, 'Welcome… Enter freely and of your own will!'"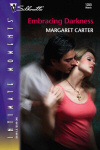 Image Copyright © 2005 by Harlequin Enterprises Limited. ® and tm are trademarks of the publisher.
(Silhouette Intimate Moments 1355)
Linnet can't convince the police that her sister and her sister's lover were murdered by the strange woman whose blood cult the two young people belonged to. So she decides to investigate on her own. She becomes entangled with Max, the murdered boy's brother. Little does she suspect that the woman they're pursuing is a real vampire, and so is Max. Can Linnet and Max find love across the barrier between their two species?